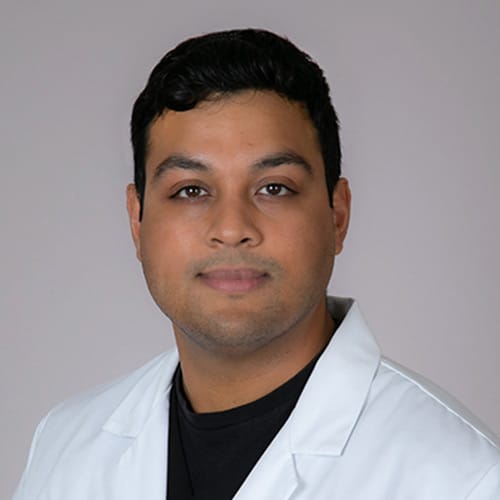 Sarang
Koushik,
MD
Certification:
Anesthesiology and Pain Management, American Board of Anesthesiology
Language(s):
English, Tamil
Personal History and Interests
What's important to Sarang S. Koushik, MD is having a positive impact on a patient's health, wellbeing, and quality of life. The son of a physician, he was inspired at an early age to become a physician himself.
Board Certified and fellowship-trained in pain management, Dr. Kousik is excited about continual advancements in interventional pain management treatment.
Dr. Koushik is also a Board Certified anesthesiologist with experience providing care for a variety of patients in the operating room setting. He is a member of the American Society of Anesthesiologists and American Medical Association and is passionate about his field of medicine and the opportunity to continually learn and contribute to clinical research.
Dr. Koushik is working with Valleywise Health to build an anesthesiology residency program in partnership with Creighton University School of Medicine in Phoenix, one of only two anesthesiology residency programs available locally. Having gone to college and medical school in Arizona and completing his internship and residency locally, he is thrilled to educate the next generation of Arizona physicians.
Outside of work, Dr. Kousik enjoys spending time with his wife and baby. As well, he is determined to master the game of golf. He is also an avid NBA fan. 
Educational Background
Medical School:
University of Arizona College Medicine, Tucson
Internship:
Mayo Clinic College of Medicine and Science, Phoenix, AZ
Residency:
Mayo Clinic College of Medicine and Science, Phoenix, AZ
Fellowship:
Pain Management, New York Presbyterian Hospital/Cornell Medicine, Manhattan
Conditions Treated
Chronic pain syndrome
Complex regional pain syndrome types 1 and 2
Fibromyalgia
Low back pain and neck pain
Lumbar spondylosis
Muscle spasms or myofascial pain
Nerve injury or irritation
Osteoarthritis
Peripheral neuropathy
Piriformis syndrome
Location(s)