About Children's Rehabilitative Services
DMG Children's Rehabilitative Services (CRS) offers families a state-of-the-art facility within a friendly, professional environment. CRS is designed to present the unique ability to meet the health care requirements of special needs children by offering nearly all specialty and primary care in a single location.

The CRS clinic provides a full spectrum of pediatric specialty care and has doctors available to serve children from birth to age 21. Specialists from all spectrums within the local community provide services at CRS. Primary care and therapy can work directly with specialty care physicians to provide comprehensive medical care under one integrated electronic medical record. Nutritionists, Child Life Specialists and Social Workers combine to provide vital support services for our renowned team of professionals.

The CRS building is located at Park Central Mall. Services in the clinic are provided in a comprehensive Multi-Disciplinary approach and cover a wide range of specialties including: Physical and Occupational Therapy, Orthopedics, Speech, Audiology, Plastic Surgery, Cardiology, Neurology and Psychology. Some conditions covered include but are certainly not limited to: cleft lip and palate, muscular dystrophy, spina bifida, cerebral palsy, as well as metabolic and genetic disorders.

DMG's CRS clinic is the largest Multi-Specialty Interdisciplinary Clinic in the state of Arizona. CRS accepts AHCCCS, most private insurances, and private-pay patients. Call (602) 914-1520 if you have any questions. CRS is licensed by the Arizona Department of Health Services.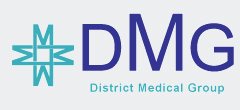 District Medical Group is a nonprofit entity made up of over 350 providers with expertise in all major medical and surgical specialties and sub specialties. DMG currently staffs a 200 bed psychiatric hospital, a 450 bed acute hospital, 11 family health centers, a large diagnostic center, an international burn center, and many unique and effective outreach programs.
Programs include: Internal Medicine, Diagnostic Radiology, Pediatrics, Obstetrics and Gynecology, Emergency Medicine, Psychiatry, Child Psychiatry, Podiatry and General Surgery.
Visit our DMG – Phoenix Medical Group Website