DMG CRS Recognizes National Physical Therapy Month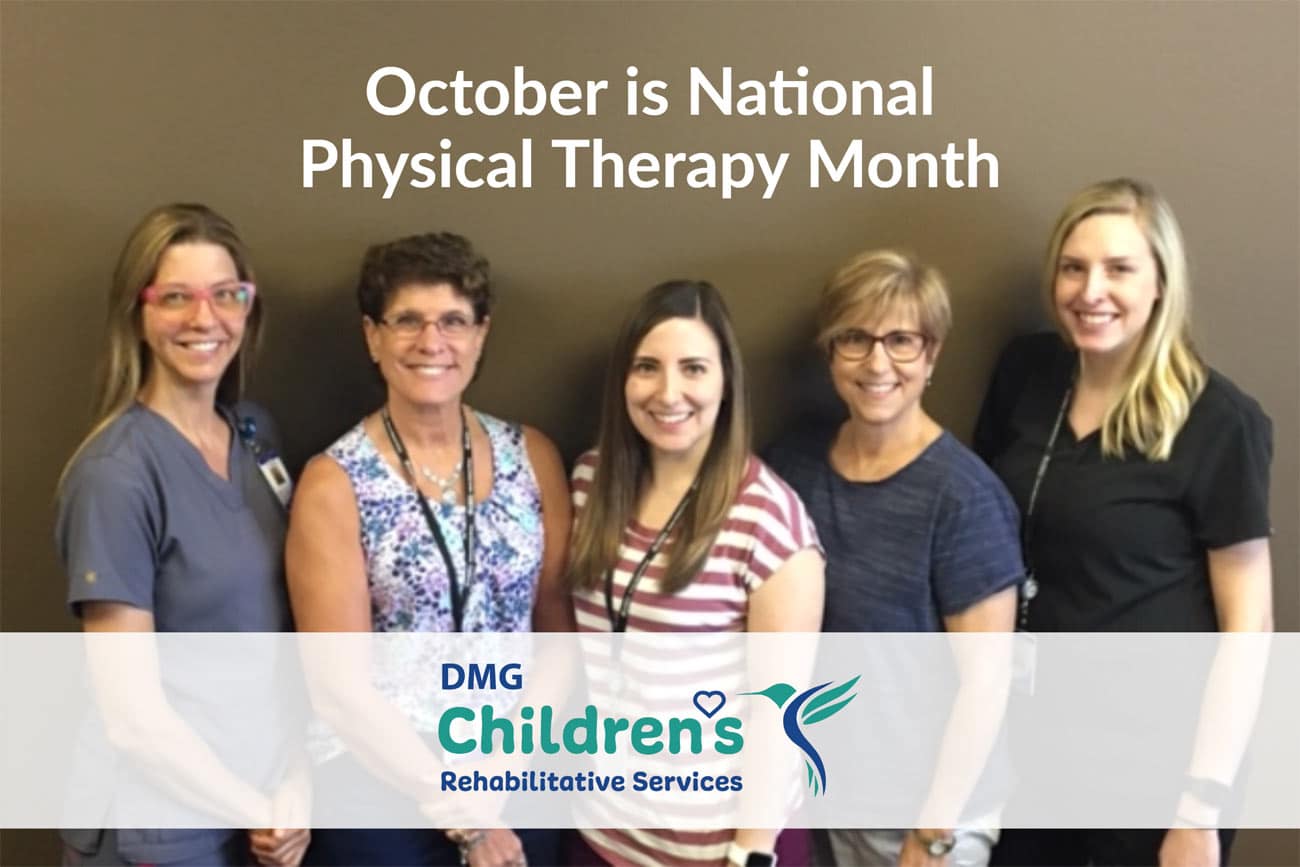 by Linda Thunn, PT, DPT, DMG CRS Physical Therapist
Pediatric physical therapists provide support and services for children (birth to 21 years of age) with developmental disabilities and their families. They aim to develop, restore and improve mobility to improve quality of life.
Pediatric physical therapy benefits children and their caregivers by promoting activity and participation in everyday routines, increasing functional independence, improving strength and endurance, facilitating motor development and mobility, and easing the challenges of daily caregiving.
A Wide Variety of Services
Not only do our physical therapists provide one-on-one treatment for our young patients in the therapy clinic, they also work in the following areas at DMG CRS:
• Amputee clinic
• Cystic fibrosis clinic
• Orthopedic clinic
• Myelomeningocele planning clinic: pediatric, transition and adult
• Rheumatology clinic
• Spasticity planning and follow-up clinic
Equipment Evaluations
Our physical therapists also perform equipment evaluations, trialing each child in specialized equipment before ordering it to determine what works best for them. Types of equipment evaluations that DMG CRS provides include the following:
• Adaptive seating
• Adaptive car seats (takes place offsite)
• Forearm crutches
• Gait trainers
• Standers
• Walkers
• Wheelchairs (takes place offsite)
DMG CRS is thankful for our talented and compassionate physical therapists and are happy to take this time to recognize their hard work during National Physical Therapy Month. Thank you for all you do!
DMG CRS now allows patients to "opt in" for services past the age of 21, and we currently have several physical therapists qualified to treat individuals over the age of 21. Adult patients with disabilities will be evaluated to determine if DMG CRS is the best fit for their individual needs. Call (602) 470-1520 to schedule an appointment.
https://www.dmgcrs.org/wp-content/uploads/2020/08/dmg-crs.gif
0
0
DMG CRS Staff
https://www.dmgcrs.org/wp-content/uploads/2020/08/dmg-crs.gif
DMG CRS Staff
2019-10-16 04:39:03
2020-01-06 06:11:07
DMG CRS Recognizes National Physical Therapy Month